SDG Action Day – NEW TOSCA approach to start the decade of transformation
New service
Today is the SDG Action Day. The theme of the 2020 edition is all about 'starting the decade of transformation'. TOSCA has developed a 6 step approach which will help to raise the ambitions and to achieve the targets of the SDGs in 2030. With only 10 more years to go we are currently not on track…we need to step up!
A lot of effort has been undertaken since the introduction of the SDGs in 2015 yet we are not on track to deliver the SDGs in 2030. 700 million people still live in extreme poverty. It will take 257 years to close the gender gap if we continue at the current pace. We are on track for 3.5C temperature rise this century per current commitments. Also 8 million metric tons of plastics enter our oceans every year which has a huge impact on live below water. Since the beginning of 2020 the Covid-19 pandamic has huge impact on the goals. The International Monetary Fund (IMF) estimates that the 'Great Lock-Down' recession could shrink the global economy by more than 3%, and according to the World Bank, the pandemic could push about 49 million people into extreme poverty in 2020, reversing two decades of poverty reduction.
There is also a performance gap between the current business performance and the global & societal needs. The private sector has a huge responsibility. More ambitious corporate targets are needed if we are to achieve the 2030 Agenda. As 84% of companies report taking actions to support the global goals only 46% are embedding the SDGs into their core business. 39% of companies say they have targets they believe are sufficiently ambitious. And just 15% of companies have targets approved by the Science Based Targets initiative.
So, it is time to step up for business leaders and to start to fully embed the SDGs within their strategies, operations, through supply chains and in communications. Together we can drive more change with a stronger voice from business. Businesses need to see the full market opportunity of at least US12 trillion dollar annually if we are to achieve the global goals. The global goals could create 380 million jobs which should be a big incentive for companies to really start embracing the SDGs.
Starting the 'decade of transformation' also means to truly start focusing on collaboration and partnerships. Looking outside your own company boundaries and start to focus on the 7 system transformations. Team up with industry partners and start setting industry specific goals. The decay of transformation has started, and we are all in it together: the government, the private sector, civil society and citizens.
But how do you start? We have identified a 6-step approach which will help companies to really embrace the SDGs and start integrating them in your business. Do you want to know more about our approach? Please reach out to us for more information at info@toscatribe.nl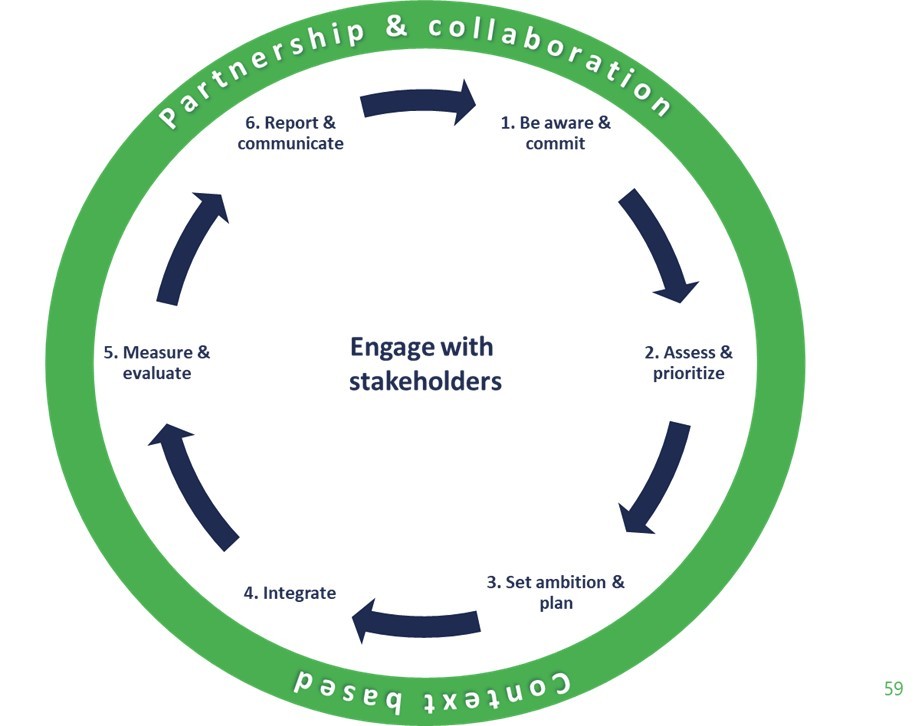 Back to news